KLCAP Survey
SLOCOE Alt-Ed LCAP/SPSA Survey
All school districts in California are required to develop a Local Control Accountability Plan (LCAP) that describes how state funds will be used to improve student academic achievement.
The San Luis Obispo County Office of Education Court and Community Schools are currently collecting data for the LCAP and the School Plan for Student Achievement (SPSA) for the 2023-24 school year. The SPSA addresses how funds provided to the school will be used to improve academic, social-emotional, and behavioral outcomes for all students attending SLOCOE's Court and Community Schools.
The SPSA is developed annually and reviewed and approved by the School Site Council (SSC) and the County Board of Education. The goals of the SPSA are aligned with the Local Control Accountability Plan (LCAP).
Engaging parents, students, community members, educational partners and school employees in developing, reviewing, and supporting the implementation of the LCAP is critical to its success.
Current LCAP
Please take a few minutes to think about each of our goals and how we can improve upon them.
LCAP Survey
The survey will be open for responses until April 30.
Becoming A School Board member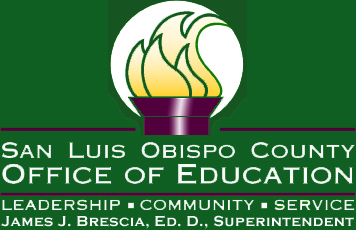 SLOP Partners PM
Are you a problem-solver who loves working with your hands? Navigate a new career path with our accelerated Precision Manufacturing Bootcamp. Apply now!
SLO Arts
SLOCOE Arts Collaborative - Providing opportunities for students to work with professional artists in professional settings. Learn more at SLOCOEArts.org
CTE
Learn about Career and Technical Education - Future Careers. Locally Grown. For more info go to SLOPartners.org


Contact
San Luis Obispo County Office of Education
Office of James J. Brescia, Ed.D.
3350 Education Drive
San Luis Obispo, CA 93405
Tel: 805-543-7732