Homeless Students in San Luis Obispo County Schools
Beginning with the 2006/2007 school year, school districts in San Luis Obispo have been taking a yearly count of identified homeless students. These students are identified according to the McKinney-Vento definition of homelessness;
Important Information
If due to a lack of housing, you must live in any of the following situations, then according to the McKinney-Vento Homeless Education Assistance Act, you are considered homeless:
Lack a regular, fixed, and adequate nighttime residence
Living in a shelter, motel, or hotel
Living in an unsheltered nighttime residence such as a car, campground, or park
Living doubled up with family or friends due to economic hardship
Unaccompanied Youth
Emergency foster placement.
Once a student is identified as "Homeless," they qualify for services for the remainder of the school year. 
Below is a summary of the data collected. Click to download a PDF.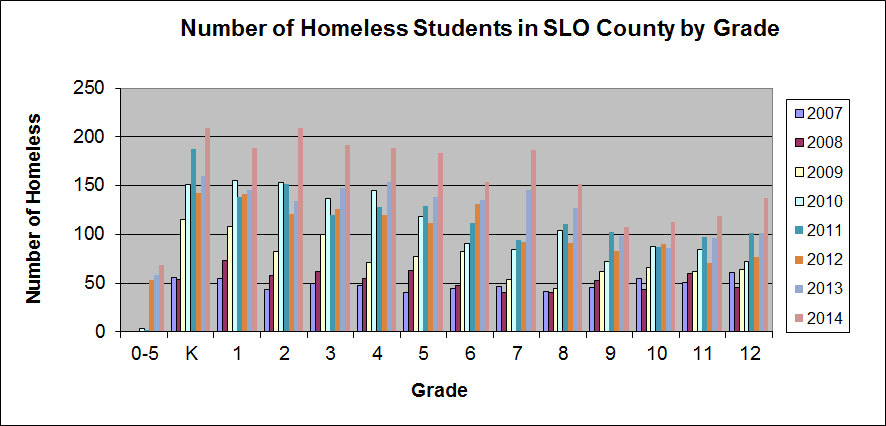 County Totals
 
 
 
 
 
 
 
 
 
 
 
 
 
 
 
Grade Level
0-5
K
1
2
3
4
5
6
7
8
9
10
11
12
Total
2007
 
0
56
55
43
50
48
40
44
47
41
46
55
51
61
637
2008
 
0
54
73
58
62
55
63
48
40
40
53
43
60
46
695
2009
 
0
115
108
82
100
71
77
82
54
45
62
66
62
64
988
2010
 
3
151
155
153
137
145
118
91
84
104
72
88
84
72
1457
2011
 
2
188
138
152
120
128
129
112
94
111
102
87
97
101
1561
2012
 
53
142
141
121
126
120
112
131
92
91
83
90
71
77
1450
2013
 
58
160
145
134
148
154
138
135
145
127
98
86
96
101
1725
2014
 
69
209
189
209
192
189
183
154
187
152
108
113
119
137
2210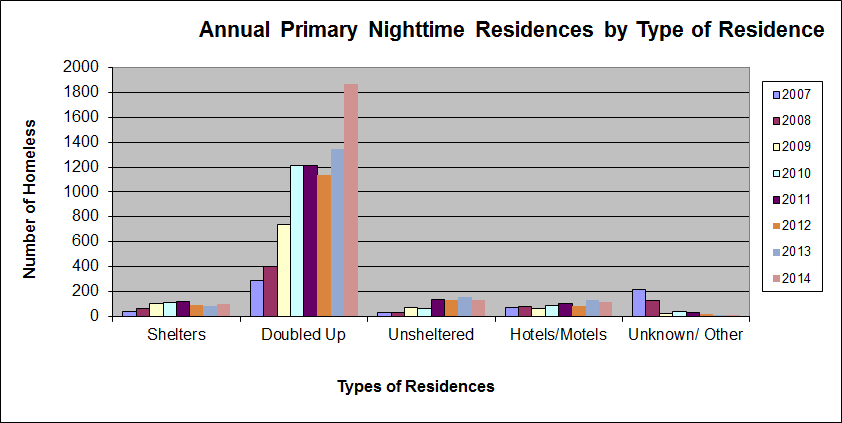 Primary Nighttime Residence Including Preschool
 
 
2007
2008
2009
2010
2011
2012
2013
2014
Shelters
 
40
62
103
110
115
88
82
98
Doubled Up
 
284
398
735
1214
1214
1139
1349
1866
Unsheltered
 
28
33
68
61
137
129
158
127
Hotels/Motels
 
69
74
63
83
101
79
128
117
Unknown/ Other
 
216
128
19
37
28
15
8
2
Unaccomp Youth
 
n/a
n/a
n/a
n/a
n/a
n/a
n/a
56
Total
 
637
695
988
1505
1595
1450
1725
2210
phone volume iconContact
San Luis Obispo County Office of Education
Office of James J. Brescia, Ed.D.
3350 Education Drive
San Luis Obispo, CA 93405
Tel: 805-543-7732