Positive Behavioral Interventions & Supports (PBIS)
"PBIS is a framework for creating safe, positive, equitable schools, where every student can feel valued, connected to the school community and supported by caring adults. By implementing evidence-based practices within a PBIS framework, schools support their students' academic, social, emotional, and behavioral success, engage with families to create locally-meaningful and culturally-relevant outcomes, and use data to make informed decisions that improve the way things work for everyone."
Center on PBIS (2023). Positive Behavioral Interventions & Supports [Website]. www.pbis.org.
Over 25 years of research has demonstrated when PBIS is implemented with fidelity, schools can expect:
Learning environments that are less reactive, aversive, dangerous, and exclusionary
Learning environments that are more engaging, preventative, responsive, and productive
Positive impacts on classroom management and disciplinary issues
Improved  supports for students who need more specialized assistance  (e.g., emotional and behavioral disorders, mental health)
A maximization of academic engagement and achievement for all  students​
The ESS Support Systems Team offers technical assistance, training and coaching to districts and schools to implement and sustain a PBIS framework with fidelity.  Our support focuses on building the capacity of leaders and leadership teams to develop strong, contextually relevant systems for teaming, instruction, and data use.  We weave social-emotional, restorative and trauma-informed practices into the implementation work to ensure integrated, rather than separate initiatives.
SLOCOE MTSS (SEB) Implementation Support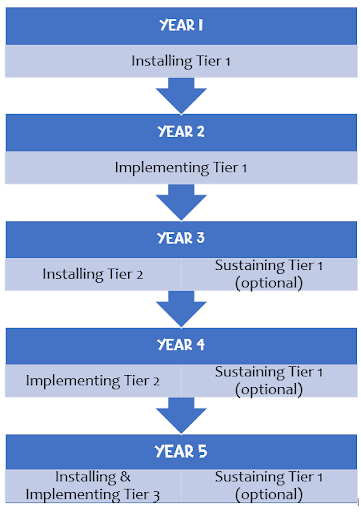 The California PBIS statewide recognition system acknowledges schools for implementing PBIS with fidelity to the national framework. In order to achieve recognition, a school is rated in 7 areas of PBIS implementation:
Focus on prevention by explicitly teaching expected behaviors to all youth;
Acknowledge and reinforce expected behaviors
Intervene early;
Use of a multi-tiered model of service delivery;
Use evidence based practices and interventions;
Monitor student progress to inform interventions;
Use data to make decisions and continuously improve
There are four levels of recognition: Bronze, Silver, Gold, and the highest honor Platinum.  1,733 schools out of the over 4,000 implementing PBIS statewide will be honored at the annual PBIS state conference in Sacramento this fall.  View a list of all CA schools recognized.
Resources
phone volume iconContact
San Luis Obispo County Office of Education
Office of James J. Brescia, Ed.D.
3350 Education Drive
San Luis Obispo, CA 93405
Tel: 805-543-7732