Grizzly Youth Academy
Camp SLO, 721 Mendocino Ave, San Luis Obispo, CA 93405
Phones: 805-782-6881 or 805-782-6882 | Fax: 805-594-6296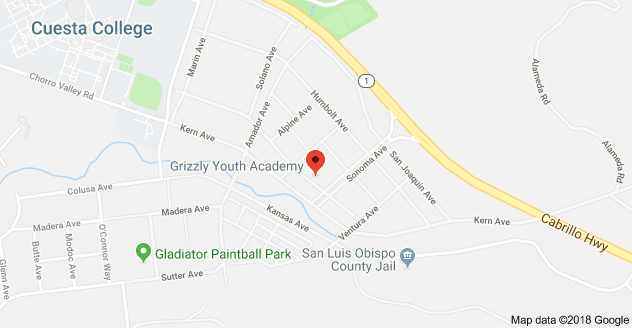 Directions are from San Luis Obispo
Take US-101 N
Take exit 220A for Traffic Way
Turn left onto Traffic Way
Turn left onto Ardilla Ave
Turn right onto Santa Lucia Rd
Turn left onto San Andres Ave
Turn left to stay on San Andres Ave
Turn left onto High School Hill
Destination will be on the right
Click HERE for directions from your location.
To gain admission to the post, you will need your driver's license, vehicle registration, and proof of insurance. Once the Guard staff at the gate have verified these documents, you will be issued a parking pass. You can speed up the process by entering the relevant information at the Camp SLO website and printing out a parking pass.
Be forewarned: The military reserves the right to inspect any vehicle entering the post.
phone volume iconContact
San Luis Obispo County Office of Education
Office of James J. Brescia, Ed.D.
3350 Education Drive
San Luis Obispo, CA 93405
Tel: 805-543-7732