SLOCOE Hosts History-Social Science Publisher Fair: January 10, 2018
The State Board of Education adopted the History-Social Science Framework on July 14, 2016. The new framework models the diversity of our great state and is rewritten to include new research that reflects the inclusionary objectives of the State Board of Education (SBE) and the California Department of Education (CDE). The framework tells a much broader story that features the contributions of diverse peoples of California and the United States (CDE, History-Social Science Framework, Pg. V).
As of November 9, 2017, the SBE formally adopted ten instructional material programs recommended by the Instructional Quality Commission (IQC). The San Luis Obispo County Office of Education will be hosting the History-Social Science Publisher Fair for Grades K-12 on January 10, 2018 at the Rancho El Chorro Auditorium. Registration is available now for $10 per attendee, which includes a box lunch. Please register members from your organization or district who would like to attend the fair.
San Luis Obispo County School Districts have been engaging in individual, department, school, district, and statewide conversations about the implementation and assessment of these new standards. Some of our districts have attended Rollout Activities for the History-Social Science Framework provided by the CDE. After the publisher fair, SLOCOE's Educational Support Services Department plans to bring speakers to the Central Coast to expand on the presentations made at these events. Topics may include K-12 Civics and Citizenship; Access and Equity; The FAIR Education Act; Teaching about Religion; Literacy; Support for English Learners in History-Social Science; and more. Feel free to contact me directly to share your individual and district H/SS professional development needs.
We appreciate the work being done county-wide and look forward to hearing about your progress as we move forward in implementing and assessing the new history-social science framework in all of our classrooms across the Central Coast.
Devon Hodgson, Ed.D.
Program Specialist, Professional Development and Instructional Support
Educational Support Services Department
San Luis Obispo County Office of Education
dhodgson@slocoe.org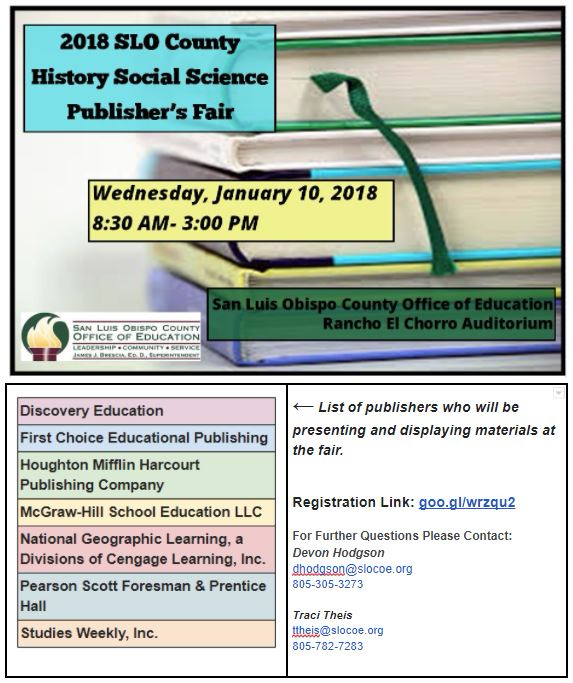 phone volume iconContact
San Luis Obispo County Office of Education
Office of James J. Brescia, Ed.D.
3350 Education Drive
San Luis Obispo, CA 93405
Tel: 805-543-7732