Coaching Leaders
Our work in education is steeped in challenges; both systemic challenges and individual ones, small and large. We tend to pursue solutions based on the way that problems are defined and we define problems according to our interpretation of what we observe.  The work of leadership coaches is to frame and ask the right questions to spark leaders to develop and grow innovative solutions to the challenge with which they are faced.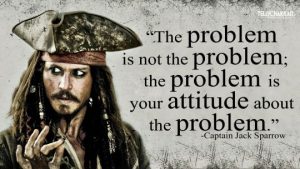 One of the most valuable strategies a coach can engage in is referred to as "reframing". Essentially this means listening to a problem and asking questions that assist the leader in viewing the problem from a different perspective. The principal who is frustrated by teachers who are late to staff meetings or who continue to have side-bar conversations might be encouraged to view the meetings from the perspective of the teachers. Or, he or she might consider systemic contributors to the issue such as the time or location of the scheduled meetings. Another lens through which to view this problem might be one of equity. Do all of the teachers believe that their voice is heard and matters?
With an eye toward pushing this idea of reframing to a new level, leadership coach Elena Aguilar offers a different kind of question than those to which we are accustomed. When an issue surfaces around managing change, the coach might ask, "Where are the opportunities for leveraging change? What barriers to change are present?"
In supporting a leader towards thinking about the system in which they are working, the questions might be "What elements of the current system are designed to produce these outcomes?" and "What are the relationships between things here and why do they matter?"
Regarding issues of equity, the coach might nudge the leader's thinking with "Who is currently at the table? Who isn't? How are power relations affecting the truth that is told and constructed here at any given moment?"
High quality coaching is frequently acknowledged as the most effective and sustainable form of professional development. The California Commission on Teacher Credentialing has assumed this stance in its program requirements for Induction.  Recently a shift has occurred for administrator induction. Learning for new administrators is now more individualized, while components of self-assessment, training and measurements of professional growth are required for their coaches.
While the goals for both sports and leadership coaching are improved performance and outcomes, the outstanding difference between the two is that in sports we expect the coach to observe and tell us what and how to change. For leaders, the role of the coach is to listen and ask good questions, prompting the leader to own her or his path for growth.
Truly listening is a simple act. However, it requires us to be fully present, and that takes practice. -adapted from Margaret Wheatley
Anne Stone, Ed.D.
Program Director, Induction
Educational Support Services Department
San Luis Obispo County Office of Education
astone@slocoe.org
805-782-7296
phone volume iconContact
San Luis Obispo County Office of Education
Office of James J. Brescia, Ed.D.
3350 Education Drive
San Luis Obispo, CA 93405
Tel: 805-543-7732