Grad Rates in SLO County Continue to Shine
Graduation Rates for the 16-17 4 Year Cohort group were recently released.  The methodology for computing graduation rates has changed from previous years due to a federal audit.  As part of this process, three significant changes were implemented for calculating 2017 high school graduation rates:
Students who receive an adult education high school diploma are no longer considered regular high school graduates.
Students who pass the California High School Proficiency Exam (CHSPE) are no longer considered regular high school graduates.
Students who transfer to adult education programs or a community college will remain in the denominator for the cohort calculation.
Due to these changes, meaningful comparisons of graduation rates are not feasible with years prior to 16-17.  The data will be used to compare growth with 17-18 when the Fall 2018 California School Dashboard is published.  Overall, San Luis Obispo districts graduation data indicates that we are doing well in supporting students to graduate.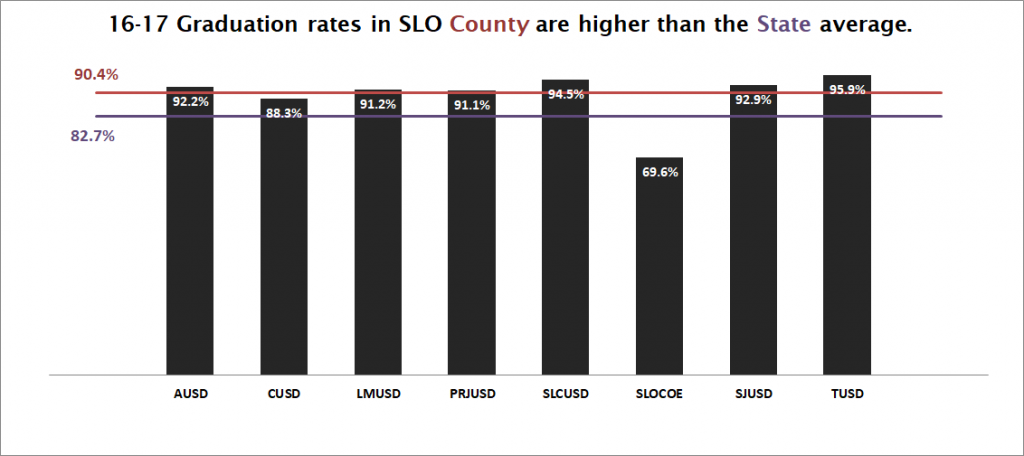 Most of our student subgroup data also indicates that SLO County districts graduate students at a higher rate than the State average.  For example, English Learner graduation rate for SLO County is about 14% points higher than the state.  However, comparisons of the EL data with the average of "All" students indicates that greater support for our more challenged student groups needs to remain a high priority.
Looking beyond graduation, as the College/Career Indicator (CCI) rolls out, we will have access to deeper levels of data and how students are being prepared for likely success after graduation.  Currently, we have access to clear data on students graduating with the required UC/CSU courses.  SLO County data for the All Students subgroup shows some districts above the state average.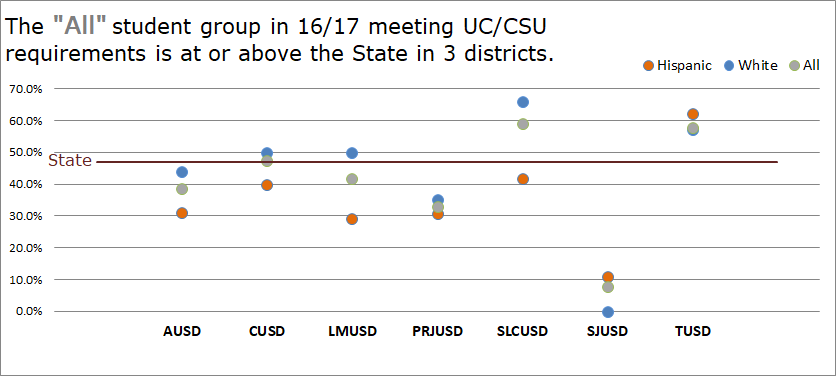 Across SLO county, there have been great strides made in developing CTE Pathways for students and offering AP and Dual-Enrollment classes.  These provide our students with more avenues to experience success and will certainly affect CCI outcomes in future years.
Dan Peverini
Executive Director
Educational Support Services
dpeverini@slocoe.org
805-782-7267
phone volume iconContact
San Luis Obispo County Office of Education
Office of James J. Brescia, Ed.D.
3350 Education Drive
San Luis Obispo, CA 93405
Tel: 805-543-7732