The Curious Skeptic: a Statewide Media and Information Literacy Summit
How well do we cultivate the 'curious skeptic' in our students? Media and information literacy is – and will increasingly be – a critical component of our society, and it is our responsibility to support students in the development of these skills. According to recent studies,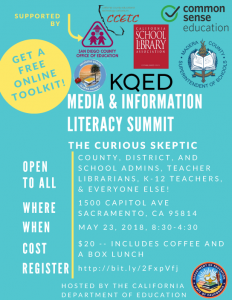 the majority of students have difficulty assessing the quality and accuracy of the content they find online. The ability to think critically and make informed decisions are skills that transcend curriculum and content area, and the cross-disciplinary Model School Library Standards (MSLS) can serve as a foundation for the development of these skills in our students.
In support of these efforts, the California Department of Education (CDE) is hosting the first Media and Information Literacy Summit on May 23, 2018. The Summit will focus on the theme of "The Curious Skeptic," and feature a full day with expert speakers and panelists discussing what information literacy is, why it is important, and how it is supported by the MSLS.
This event is presented in partnership with the California County Educational Technology Consortium (CCETC), which counts SLOCOE as a founding member. The Summit intends to help teachers, librarians and administrators enhance the information literacy abilities of students. Speakers from KQED, Politifact, and Common Sense Education will be on hand, as well as Glen Warren from the Encinitas Union School District. At the Summit, participants will receive a free online media and information literacy toolkit.
For more information or to register for the Summit, please visit http://bit.ly/2FxpVfj. The deadline to register is May 9, 2018. If you have questions about the Summit, please e-mail Jennifer Howerter, CDE Education Programs Consultant, at jhowerter@cde.ca.gov.
Michael Garrett
Educational Technology Coordinator
San Luis Obispo County Office of Education
Ph: 805.782.7290
mgarrett@slocoe.org
www.etcportal.org
phone volume iconContact
San Luis Obispo County Office of Education
Office of James J. Brescia, Ed.D.
3350 Education Drive
San Luis Obispo, CA 93405
Tel: 805-543-7732