The Role of Focus in Sustainable Improvements
Sitting in a grade-level meeting, a veteran teacher sighed with frustration and asked, "When will what we do be good enough? When will they stop insisting that we do more, more, more, and better, better, better?" The quiet response was, "Does anyone remember when IBM created one of the first computers? It filled up an entire room and processed based on cards fed with 'code'. And, it was a miracle for its time. What if IBM had said 'Well, we've done it. We've created a computer. Now we can focus on how to sell this miracle to the world?'"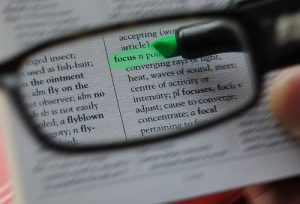 The story is antiquated, but the need to be reminded of the idea is real. Improvement can be tiring, sometimes frustrating, and often messy, but always rewarding. Our moral imperative as educators is to serve the students of today while planning for tomorrow.
Although a sense of urgency often drives a need for improvement, finding the balance between that urgency and thoughtful implementation can be difficult. Current research (Fullan & Quinn, 2016, Schmoker, 2016, Fisher & Frey, 2015) points to the essential requirement of focus for implementing sustainable change:
Fullan & Quinn find that focusing direction driven by

moral purpose

,

impactful goals

and

clear strategies

are essential for achieving those goals.

Schmoker uses the phrase "

less is more

" and advocates that educators avoid distractions and concentrate on what is most important.

Fisher & Frey approach focus through the concept of branding built from the question "

What do we want to be known for?

", maintaining that it gives everyone in the school community a common understanding of their goals and a map for midcourse corrections.
Although each of these sets of research follow different paths to their conclusion, the theme is clear: sustained, positive growth in service of our students requires FOCUS.
Thank you, San Luis Obispo County educators, for your persistent commitment to providing the highest quality educational experience to our students.
Anne Stone
Program Director
Induction and Administrative Services Credentials Program
San Luis Obispo County Office of Education
astone@slocoe.org
805-782-7296
phone volume iconContact
San Luis Obispo County Office of Education
Office of James J. Brescia, Ed.D.
3350 Education Drive
San Luis Obispo, CA 93405
Tel: 805-543-7732